State leaders can't answer whether bar game is legal
---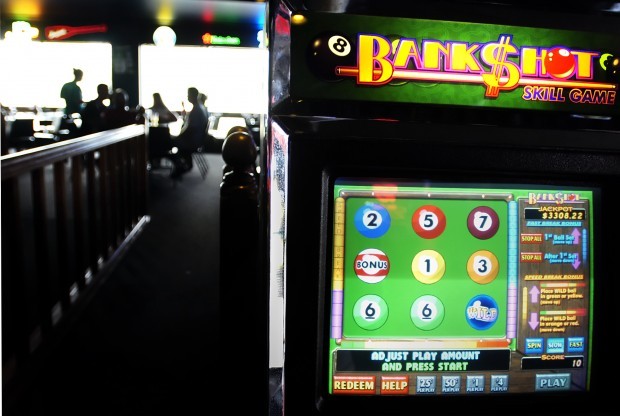 Is Bank Shot, the new video game available in almost 400 bars across the state, a legal game of skill or an illegal game of chance?
Jim Ritzman with the nonprofit Sowers Club wants to know.
His group, which gives $100,000 a year to charities from pickle card profits, is losing money as people pick the glitzy Bank Shot game over pickle cards, he said.
And state Sen. Russ Karpisek, chairman of the legislative committee that deals with gambling, also wants to know.
If it's a legal game, maybe the state should look at getting a few more tax dollars from it, he said.
But no state leader or agency involved in gambling issues will answer the question.
In fact, this week no one will even talk about the Bank Shot game.
Not the Nebraska State Patrol, not the attorney general's office and not the Department of Revenue, which oversees gaming operations.
"We are not going to talk about it. It is considered an ongoing investigation," said Deb Collins on behalf of Col. Bryan Tuma, head of the Nebraska State Patrol.
Said Leah Bucco-White, on behalf of Attorney General Jon Bruning: "We are currently investigating the situation. I don't have any further information to provide at this time."
And this from Kim Conroy, deputy commissioner of revenue: "All I can say is that I don't have any comment."
The patrol and revenue department spokespersons said they expect the Legislature to find answers.
"We're just letting the legislative process take place," Conroy said, referring to a legislative resolution to study the issue.
Except senators don't provide legal opinions, Sen. Karpisek said.
The committee needs an answer on whether the game is legal from experts, he said.
"The question is - are they legal or are they not legal? The attorney general answers that, in my opinion," said Karpisek, who is planning to hold a public hearing on the issue this fall.
The game's designer, John Fox, thinks he knows the answer.
His game is legal, and the state can't find evidence it is not, said Fox, president of American Amusements Inc. of Bellevue.
Ritzman agrees.
"I don't think they (state leaders) are for it. But they don't know how to get rid of it," he said.
Even if no state official will talk about the game this week, there's plenty of evidence the patrol and state gaming agency have been looking at the Bank Shot game for at least six months.
The patrol confiscated two games from Grand Island's Fonner Park keno in January so they could be tested, according to news reports.
The machines are back in play at Fonner Keno, a fact that Fox said further supports his contention the game is legal.
Several companies have examined the fast-paced game - which requires players to pick out winning patterns.
The companies came to different conclusions, patrol representatives have told reporters in the past few weeks.
Lincoln police are interested in getting an answer to the question now that Bank Shot games are moving into Lincoln bars.
Lincoln, the last town to get the games, now has them in 23 bars, said Lincoln Police Investigator Russ Fosler.
Fosler said he will meet today with representatives from the county attorney's office and the Department of Revenue to talk about Bank Shot.
The company has built a small element of skill into the game, said Fosler, who lost $10 trying out the game.
The question seems to be how much skill is required to make the game legal, he said.
And Ritzman is frustrated by the lack of a decision.
"We can't get anyone to make a decision," he said. "Just call it legal or illegal, but don't ride the fence."